Learn about rhinoplasty and the results it can achieve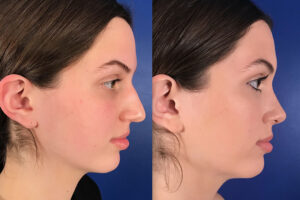 At APRS, Dr. Ben Cilento and his team provide patients with ways to improve their appearance using plastic surgery. Plastic surgery procedures are often elective treatments that are performed specifically for aesthetic purposes. Our practice offers many facial treatments, including rhinoplasty.
What is rhinoplasty?
Dr. Ben Cilento describes the rhinoplasty procedure as a cosmetic procedure used to reshape the nose. This treatment may improve different areas and elements of the nose, including:
Nostrils
Bridge
Width
Length
Tip
Cartilage
Nasal septum
Alignment
Patients who come into APRS complaining of imperfections of the nose are encouraged to take the time to connect with our professionals and discuss their needs. We can evaluate the structure of the nose and determine if the patient is a proper candidate for rhinoplasty. During this initial examination and consultation visit, patients can ask questions about the procedure and determine if it is appropriate for their needs. Additionally, Dr. Ben Cilento can provide patients with before and after photos to show the changes that can be achieved with this plastic surgery. Patients can then schedule their procedure and get started making positive changes for their self-confidence.
Will insurance cover my rhinoplasty?
In most situations, the rhinoplasty procedure is considered an elective surgery, which means that it is being performed strictly for cosmetic reasons. In these cases, a patient's medical insurance will not provide partial or full coverage for the procedure. Patients can work with our front office team to discuss the overall cost of treatment and determine if a financial payment arrangement can make their procedure attainable, regardless of budget. Patients who are having the procedure done to treat functional issues of the nose, such as a deviated septum, may be able to use their medical insurance to reduce the out-of-pocket costs.
Considering rhinoplasty?
Take the time to connect with Dr. Ben Cilento and his team at APRS in Spring, TX. His office is located in Suite 200 at 2940 FM 2920 and can be reached by phone for an appointment at (346) 300-FACE. Dr. Ben Cilento has years of experience and accepts new patients into his practice for comprehensive care.